Copperhead G2 Heat Break update
We have had product updates to the Copperhead lineup.
The Copperhead Heat Break - Standard has increased in length by 3 mm. This allows for the shaft collar on the Raise3D E2 and Pro2 machines to better grip the cold side shank of the heat break. The new version of the Standard Heat Break is called G2, as in Copperhead Heat Break - Standard G2. The function of the heat break will not be affected.
The Standard Heat Break also fits the Copperhead Heat Sink. So the Heat Sinks are updated with a 3 mm deeper bore. The new versions of the Copperhead Heat sinks have updated product labels and descriptions. The product names are Copperhead Heat Sink - Groove Mount G2 and Copperhead Heat Sink - Screw Mount G2. The G2 heat sinks are identical with the exception of the bore length. G1 heat breaks will still fit the G2 heat sinks.


Combining the Copperhead G1 Standard Heat Break with Copperhead G2 Heat Sinks and visa-versa will still function. However, the user experience will be impacted.

In the first configuration, the G1 heat break will slide into the G2 heat sink more than it is supposed to and may make installing a PTFE tube more difficult. In the second configuration, the G2 heat break will stick out from the G1 heat sink and won't look right. In this case the z-offset may also need adjustment before printing.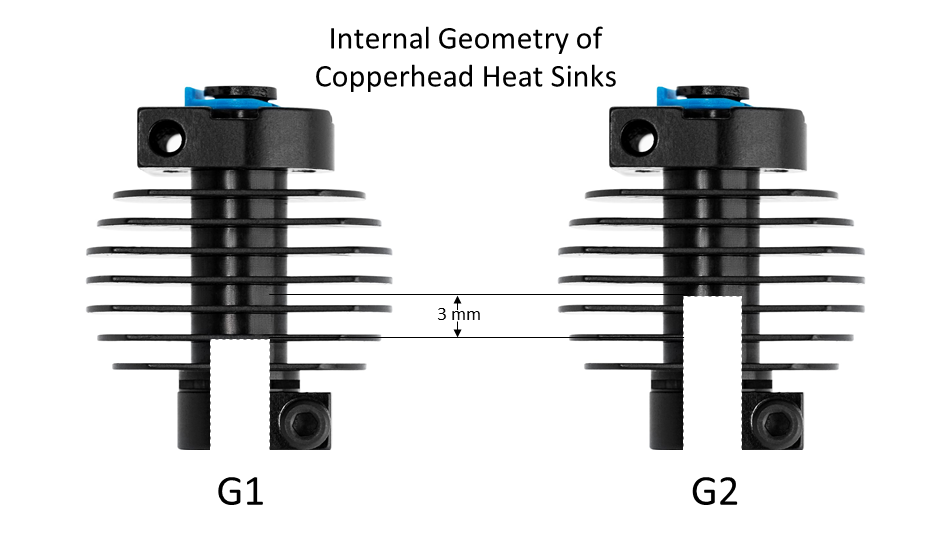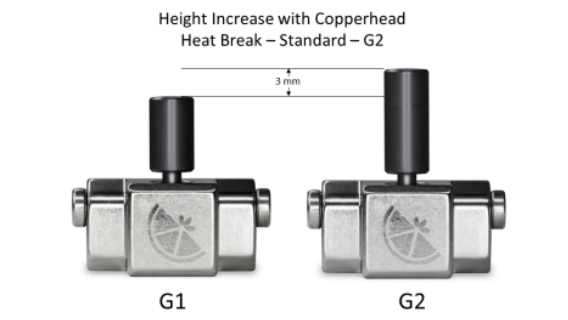 Related Articles

Copperhead® Silicone Boot Installation Instructions

Copperhead® Silicone Boot Installation Instructions What You Need Copperhead® Silicone Boot Copperhead® Hot Block Copperhead® Heat Break Nozzle Before Starting Remove any filament residue on the Copperhead® Hot Block. Attach the nozzle to the ...

Should I get the Mosquito™ or the Copperhead™?

The Mosquito™ and the Copperhead™ share our Bimetallic Heat Break™ technology, are both designed for high performance applications, and are beautifully designed and machined in America; but the similarities end there. The Copperhead™ is a traditional ...

Heat Break Insulator

The Mosquito® Magnum Hotend comes fitted with a custom composite ceramic heat break insulator. The insulation provided by this part extends the melt zone of the Mosquito® Magnum and increases print speeds. Unlike our metal components, the ceramic ...

Is the Bondtech BMG-M compatible with the Copperhead™?

The Bondtech BMG-M is not compatible with the Copperhead™ Hotend. However, the Bondtech BMG is compatible with the Copperhead™ Hotend (Groove Mount Heat Sink).

Does the direction of air flow from the hotend cooling fan matter?

The sticker on our fan should face the hotend, with the air flow directed toward the heat sink. If you are using a dual-extrusion setup where the two fans are in line with each other, then they will need to be oriented in a way where one fan is ...